One of the country's largest taxi apps, Free Now, calls for staggered opening hours to help reduce demand for taxis during rush hour.
The app operators gave evidence to the Oireachtas transport committee today as part of a discussion about the shortage of taxi drivers.
Fiona Brady, operations manager at Free Now, told the committee that 'modernising licensing laws will help alleviate the high demand in city centers when pubs close'.
She added: "The Irish taxi market is now at a critical juncture as society and the economy emerge from the pandemic.
"As things stand, taxi services are struggling to keep up with demand at times in cities across Ireland."
Niall Carson, chief executive of Free Now, said they could see a number of pinch points during the day through their app.
He said midnight to 2 a.m. is one, but there are also times of the day when demand is extremely high, including 8 a.m. to 9 a.m. and 4:30 p.m. to 6:30 p.m. when people use taxis as an alternative to public transport.
He said they've seen a number of extreme surges in demand at high-profile events.
"During Garth Brooks [concerts] we would have seen a level of 10,000 requests from the public in a single domain.
"For Ireland v Wales there were 51,000 requests over a two and a half hour period.
"During the Marlay Park gigs, there were 50,000 over a three-hour period. For Westlife, there were 35,000 over a two-hour period."
Mr Carson also called for a number of changes to encourage new entrants to the industry.
These include a reduced focus on geographical knowledge in the driver entry test to account for "the ubiquitous nature of technology".
He also called for the introduction of integrated ticketing to allow customers to move between bus, train, tram and taxis in a consistent and easy-to-use way.
Anne Graham, CEO of the National Transport Authority, told the committee there were around 11% fewer taxis on the road after the pandemic.
However, she said there were signs of recovery and the NTA had introduced a number of measures to encourage more drivers to enter the market.
One of them is a new pricing structure that came into effect on September 1.
"Drivers indicated that if we had a higher fare associated with peak hours/night, they would be more willing to work," she noted.
"This tariff has just been introduced and we will have to see what the impact will be.
"But the other route is to provide more public transport, we are now moving to 24 hour bus services in Dublin. We have eight routes in operation and we want to roll these out in conjunction with Bus Connects."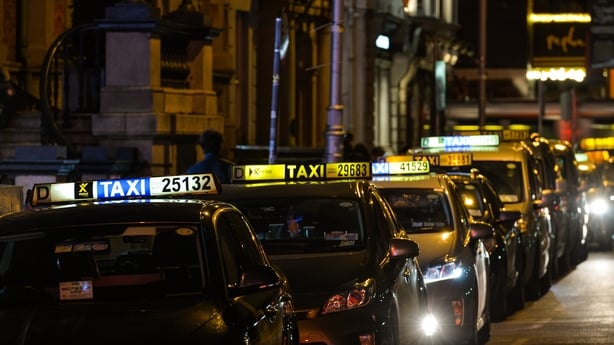 Ms Graham also said she was not in favor of transport policing on public transport.
"If you have a dedicated transportation police, how would you place your policy? You're never going to cover all the services provided statewide.
"We have a national police force. If we have good working relationships – as we do – our operators can call on An Garda Síochána in any part of the country.
"I think that's better than having dedicated transport police on particular services."
Ms Graham added that 'operators provide private security at different times and spend a significant portion of their budget in areas where there is known anti-social behaviour.'
She said everyone has seen some of the heinous happenings on social media in relation to anti-social behavior on public transport.
But these but those "must be put in the context of the number of successful trips that go off without incident."