Taxi drivers who take longer routes in order to unfairly increase their charges face a fine of Kshs 20,000 or six months in jail or both. This is according to new rules laid down by the Ministry of Transport aimed at curbing the state of indiscipline in the taxi industry.
Transport Cabinet Secretary James Macharia, who endorsed the new guidelines, noted that taxi companies will now be under the watchful eye of the National Transport and Safety Authority (NTSA).
The directive sets out rules for passengers and drivers who will face stiff penalties if found guilty.
Transport CS James Macharia signals an NTSA branded car.
Case
"A person who contravenes any provision of these Regulations commits an offense and is liable on conviction to a fine not exceeding twenty thousand shillings or to imprisonment for a term not exceeding six months or both ", says the settlement in part.
Here are the rules:
Passengers
According to CS Macharia, the new rules will help maintain an orderly state for taxi industry stakeholders.
Passengers were prohibited from using offensive language or gestures towards other road users. In addition, during the trip, passengers are prohibited from acting disorderly.
If reported for smoking cigarettes or throwing bottles from the vehicle and littering, passengers risk heavy fines or jail time.
Those who spit in taxis also risk heavy penalties. In addition, the new law prohibits passengers from damaging any part or equipment of the vehicle during the trip.
Drivers
Drivers have been banned from tinting or decorating the windows of their vehicles. In addition, they were prohibited from smoking, driving while intoxicated and chewing miraa.
Drivers were also instructed to issue tickets to passengers to serve as receipts for payment.
The new law also stipulates that they must equip their vehicles with hands-free accessories to maintain their mobile devices during the travel period.
Additionally, drivers were banned from driving for more than eight hours in a row to reduce fatigue.
No taxi vehicle on the road must be more than 16 years old from the date of manufacture.
The owner of the transport vehicle must keep the driving license details for at least two years. The owner must also enter into a contractual agreement with the driver, stipulating the terms of engagement.
The law prohibits drivers from assigning, transferring or authorizing the use of the platform account by another person. The driver must return any object left to his customers, but at the expense of the passenger.
The rules also prohibited drivers from taking longer routes than necessary in order to unfairly increase fees.
"Each Transportation Network Driver providing Transportation Services Transportation Network Functions shall conduct Transportation Network Passengers to their destination by a route other than the shortest and most direct, unless requested by the Passenger," reads- we in the new rules.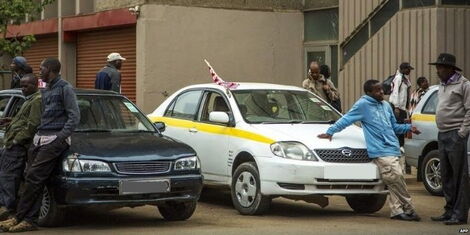 Taxi drivers in a parking lot in Nairobi
Case
drunk