Deputy Minister Le Anh Tuan urged inspectors from the city's transport ministry, in cooperation with the heads of Tan Son Nhat International Airport and the Southern Airport Authority, to punish taxi drivers who refuse to take passengers, as well as those who charge unreasonably high prices additional fees.
Tuan also instructed units to set up pick-up and drop-off areas, creating favorable conditions for buses, taxis and app-based vehicles to park, pick up and drop off passengers.
It is part of measures taken to solve recent overcrowding at the country's busiest airport, with passengers having to queue for hours and causing frustration for passengers.
The waiting area for check-in procedures at the airport's domestic terminal has been full of customers queuing for the past week. Some even sit and lie on the ground due to flight time changes, creating severe congestion inside the airport, the Vietnam News Agency reported.
Le Hong Van, who lives in the town of Thu Duc, said she and her children had to queue for more than two hours between check-in and security screening areas.
"My family has never had such a hard time traveling like this. We had to get up early at 4 a.m. to make sure we could board on time," she said.
Do Van Huan, who lives in southern Dong Nai province, said her family arrived at the airport three hours earlier than the flight time but still had to pay an additional 600,000 VND ($23) per person for ticket exchange due to late check-in. -on time.
"We planned to arrive three hours before the flight time, but due to traffic jams on the way and congestion inside the airport for more than two hours, my family was late. We have had to spend another 2.4 million VND to change four plane tickets," he said.
Overcrowding occurs even when passengers board the bus for the plane.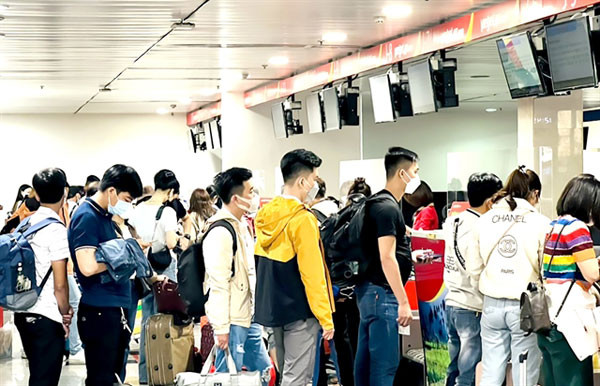 Explaining the cause of the congestion, the head of Tan Son Nhat International Airport said the number of passengers had increased beyond the usual threshold. All domestic flights are always fully booked.
On average, the airport operates 700 to 750 take-offs and landings per day, with passengers exceeding 100,000 passengers per day.
Dinh Viet Thang, director of Vietnam's Civil Aviation Authority, said the congestion in the security screening area had many causes.
Overcrowded home terminal and small security check area make it impossible to install more check gates. Most domestic flights take place early in the morning, overloading the security screening area.
Tan Son Nhat International Airport is designed to serve 25 million passengers per year, including 15 million domestic passengers and 10 million international passengers. The airport has been overloaded since 2016 due to high passenger demand.
In 2018 and 2019, the airport handled 38 million passengers and 41 million passengers respectively. Of these, 24 million passengers and 27 million passengers were domestic passengers.
Overcrowding at the airport has led to chaos and scams among taxi services.
Nguyen Thu Nguyet, who lives in Tan Binh district, said she always had difficulty booking app-based taxis home because her house was quite close to the airport.
"The driver refused immediately or asked for more money," she said.
Luong Ngoc Minh, who lives in Thu Duc district, said he paid 198,000 VND to take a taxi to the airport from home, but had to pay 450,000 VND to return.
"The taxi driver explained that he took the money for the trip, not according to the meter," he said.
Figures from Tan Son Nhat Airport Aviation Security Center showed that in the first six months of this year, inspectors detected and dealt with 301 cases of seductive guests causing public unrest.
Nguyen Minh Tuan, deputy director of the Southern Airport Authority, said the number of passengers flocking to the airport was too large. At the same time, the infrastructure was not guaranteed, causing traffic jams at the pick-up areas.
When many planes land, the demand for car rides increases, leading to a rush for taxis and illegal practices by taxi drivers.
Meanwhile, some passengers accepted the surcharge after a long time of waiting and reserving the car.
Currently, 12 taxi companies, contract cars and technology cars operate at the airport. About 15% of customers need a car.
However, due to a shortage of cars, passengers spent a long time waiting, causing local congestion at the airport.
On average, 42,000 passengers will require 6,300 car journeys per day. If the number of passengers increases to 60,000, the number of car trips will be 9,000.
To guarantee the number of cars, the airport has established a unified file during peak periods to require taxi companies to provide adequate vehicles to serve passengers.
According to the city's Transport Department, building a new parking lot, strictly managing acts of baiting and overcharging, dividing traffic flows and accelerating the construction of the T3 terminal are solutions to reduce overload.
Phan Cong Bang, deputy director of the department, said the unit cooperated with Tan Son Nhat International Airport and Tan Binh District Police to resolve the traffic jams.
The Southern Airport Authority said it had proposed to build parking and buffer space for vehicles entering or exiting the airport. He worked with local police to organize traffic flows and coordinated with the city's taxi association to ensure the number of taxis operating at the airport, especially during peak hours.
Do Ngoc Hai, head of the department's transportation management department, said the department will mobilize inspectors to increase patrols, inspect vehicles and deter violations.
He said it was necessary to develop public transport to the airport. He suggested more bus routes and pick-up points at the domestic terminal to allow more buses to enter the airport.
Regarding the construction of Terminal T3, Bang said at the recent meeting that Prime Minister Pham Minh Chinh had requested Vietnam Airports Corporation and the City People's Committee to start construction of Terminal T3 in the third quarter of this year. year.
The city is working on site clearance for the project. The terminal will be commissioned in September 2024.
Source: Vietnam News